Custom Outdoor Fire Rings From Wisconsin!
Fox River
Fire Rings
Imagine a summer night at the lake with family and friends as you sit around a campfire. Fox River Fire Rings can add to that memorable moment with a custom fire ring that is American-made right here in the heart of Wisconsin.

Fox River Fire Rings are American-made right here in Neenah, WI with high-quality steel, attention to detail and creative designs. Available customization allows you to create your own fire ring that is perfect for weekends at the cabin up north or campfires in your backyard.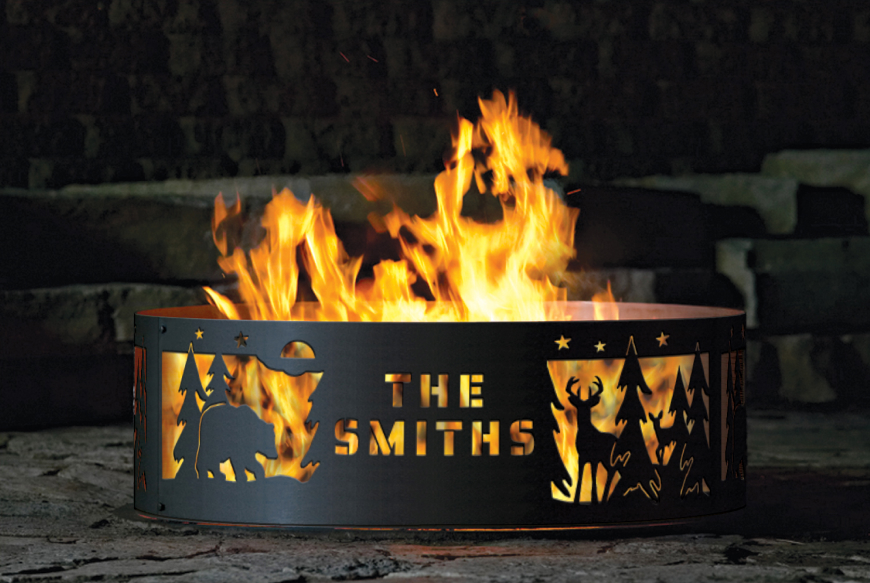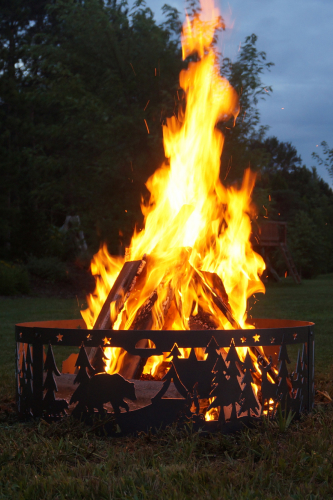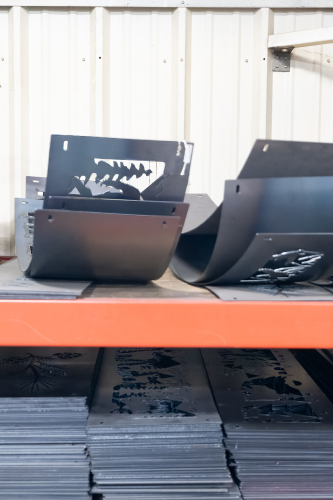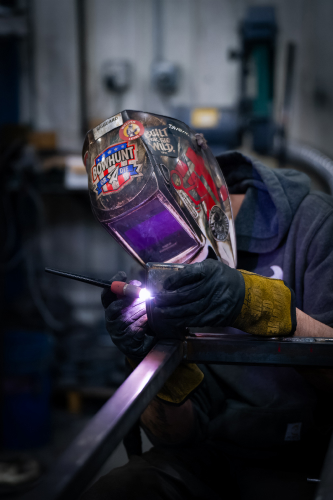 Give Your Backyard Some Love
No matter what your personal tastes may be, Fox River Fire Rings can help you build a fire ring to match. A wide variety of beautiful, handcrafted designs are available online and we can personalize your fire ring with your last name and more. Fox River Fire Rings are available in a variety of sizes and shapes that are manufactured from high-quality steel and easy to assemble when they arrive at your home or cabin. We also offer several outdoor and indoor metal decor that can definitely add a unique touch to your backyard or home.
Why Choose Fox River Fire Rings?
American Made
All fire rings are manufactured right here in America's Heartland.
High-Quality Materials
These are built to last using corrosion resistant and heavy steel.
Easy to Assemble
Multi-piece design that makes it easy to assemble and transport.
Custom Designs
Over 30 custom designs to choose from that all can be personalized.
Learn More About Fox River Fire Rings!
Family owned and operated – Fox River Fire Rings – is proud to provide high-quality, steel fire rings to customers who love to spend time outdoors. We love the outdoors here in Wisconsin, and what could be better than a night around the fire with family and friends up at the lake?
We use superior steel purchased here in the Midwest, ensure high quality construction that will last for years, provide custom design options to match your decor and strive to provide unprecedented customer service when you choose Fox River Fire Rings.
Shop Our Custom Outdoor Fire rings!
We provide you with a range of sizes and shapes that can be manufactured with any of our intricate designs.
What Customers Say About Fox River Fire Rings
Take a look at what some of our past customers have to say about their experiences with Fox River Fire Rings!
I'm completely amazed at the turnaround time, customization and customer service and the truly incredible detail and quality of the product.

COURTNEY W.

The 60″ customized fire ring I ordered was a big hit. Had the name of the ranch on it…beautiful piece. Pay extra and the high temp paint job, trust me on this one.

BRUCE M.

Couldn't ask for anything more! Thanks for a quality USA built product. Good to see pride in a product. Keep it up folks!

DEREK M.
Order a Fox River Fire Ring Today!
Make your weekend trips to the cabin more memorable with a night around the campfire and a custom Fox River Fire Ring that is built to fit your lifestyle — from right here in Wisconsin!