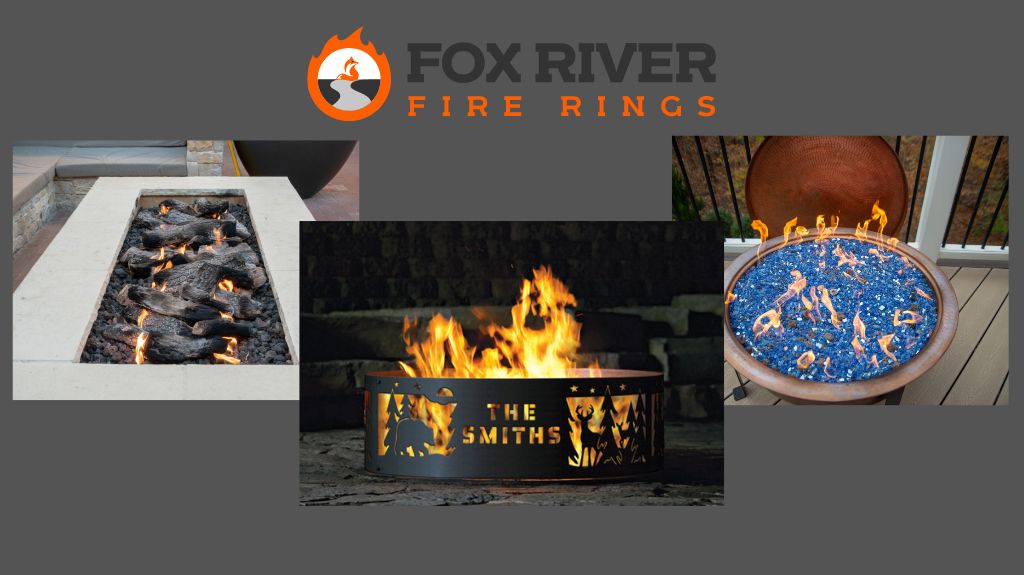 Do you love to spend your evenings around the fire at your lake house, cottage or cabin? Is it time for you to upgrade your fire ring? Are you tired of your old, rusty and burned-out steel fire ring? Fox River Fire Rings – located in Neenah, WI – prides itself on designing and creating beautiful steel fire rings that are built to last and we would love to answer your questions. Questions like – what are the different types of outdoor fire rings? Here is a quick look at what you can expect to find when you shop online for a brand-new outdoor fire ring.
What Is the Definition of an Outdoor Fire Ring?
A fire ring is defined in most cases as a stone or metal enclosure that is built to contain a fire and is typically placed directly on the ground outdoors. Fire ring and fire pit are often interchangeable terms, but it may depend on where you are or who you are with. Metal fire rings – like those manufactured at Fox River Fire Rings – employ high-quality, mild steel that can be finished to protect the steel and create a more rustic appearance. Fire rings can be portable, standalone units that are easy to transport to and from a campsite or can be integrated directly into the outdoor decor of your patio or home.

When you shop online for a fire ring, you will find that fire rings may be divided into four primary categories based on fuel type – wood burning, propane, gel fuel and natural gas. Here is a closer look at each type/category of fire ring that you may find online.
Wood Burning Fire Pits
The most authentic and the most common, wood burning fire pits provide family and friends with hours of enjoyment and plenty of memories. Fox River Fire Rings are built for a traditional wood fire and incorporate custom designs into the high-quality steel. Common varieties of wood burning fire rings include stone or brick fire rings, wood burning grills and outdoor fireplaces.
Propane Fire Pits
Are you tired of chopping wood for your fires? Less traditional, but more attractive to some outdoor enthusiasts, propane fire pits are available in a wide variety of designs that include expensive copper bowl fire pits, portable propane fire pits like a Solo Stove and fire pit tables that you find on outdoor patios. Propane fire pits often use glass, rock or stone to create a more attractive fire.
Gel Fuel Fire Pits
You or a member of your family may want to enjoy a fire without the smell of burning wood or smoke in your eyes. Gel fuel fire pits are a modern solution that employ a chemical gel fuel to create an odorless, smoke-free flame. Key examples include TerraFlame Gel Fuel Fire Logs and tabletop fireplace varieties that are ventless and smoke-free.
Natural Gas Fire Pits
Are you interested in an upgrade to a propane fire pit? Natural gas fire pits can be built into your outdoor patio and provide an endless supply of natural gas that is tied into your home utilities. Common types of natural gas fire pits include a sunken design that is built into a patio and tabletop designs.
Why Should You Choose Fox River Fire Rings?
We could give you a lot of reasons to choose Fox River Fire Rings when you decide to buy an outdoor fire ring – but we will stick to the basics. Fox River Fire Rings are made in the U.S.A., unlike many of our competitors, and are built to last for generations. Our custom fire rings are made from high-quality steel with intricate designs and a rustic finish that can be customized with your own text. The easy-to-assemble, multi-piece design makes Fox River Fire Rings portable and easy to move from campsite to campsite or a great addition to your outdoor decor at a permanent location.
READ MORE: Can I Have a Fire Pit in My Backyard?
Do you have questions about an outdoor fire ring? You may ask – what are the different types of outdoor fire rings – and we can help answer that question here at Fox River Fire Rings. Contact our team today to purchase your own custom steel fire ring!