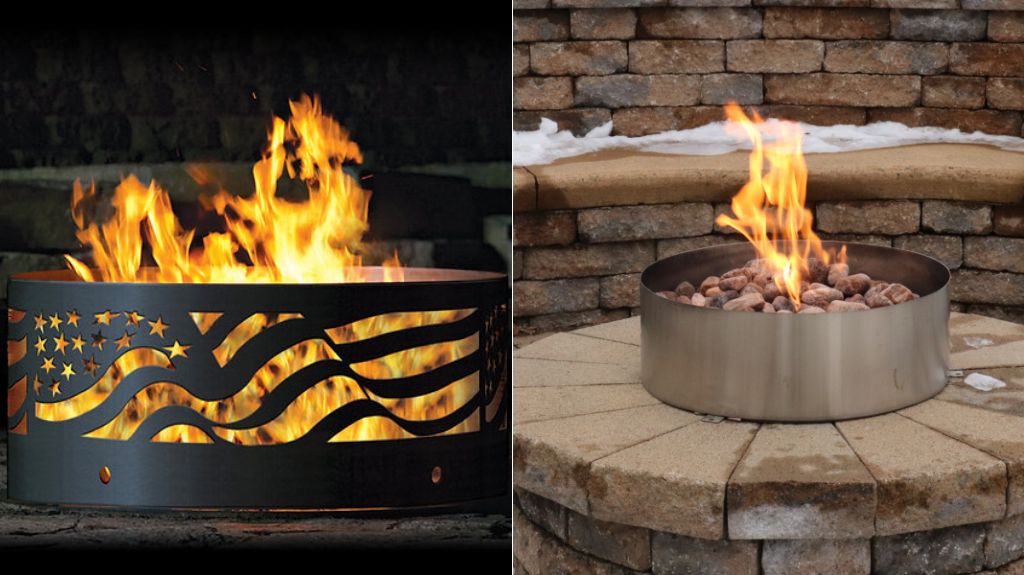 Are you looking for a fun way to add a little heat to your outdoor space? A backyard fire pit may be the perfect addition to your home and a great way to spend time with friends and family, but we know there are a lot of options available to you on the market and a lot of brands to choose from.
Here at Fox River Fire Rings, we create custom outdoor fire rings in the heart of the United States and we may be biased – but we believe that they are the right choice for you and your family. To help you find the perfect fit for your outdoor entertainment space, we have created a Fox River Fire Rings vs Breeo Smokeless Fire Pits comparison that highlights key differences.
| Fox River Fire Rings | VS | Breeo Smokeless Fire Pits |
| --- | --- | --- |
| $112 – $268 | Prices | $399 – $1,899 |
| 30-Inch, 37-Inch, 48-Inch and 60-Inch | Available Sizes | 19-Inch, 24-Inch, 30-Inch and 33-Inch |
| 12-Gauge and 14-Gauge Steel | Materials | Corten Steel and Stainless Steel |
| Wood | Fuel Type | Wood |
| Yes | Custom Designs | No |
Why Choose Fox River Fire Rings?
Breeo Smokeless Fire Pits are a popular option on the market – and we aren't going to lie – they are pretty cool, but we think that you will find that Fox River Fire Rings can provide options not available with Breeo. Here is a better look at a few key aspects you may want to consider when you purchase a fire pit for your backyard.
Price
Fox River Fire Rings provide families with a basic, high-quality steel fire ring that can be customized to fit your outdoor lifestyle. We manufacture our fire rings with high-quality steel here in Wisconsin with an easy-to-assemble multi-piece design. Breeo Smokeless Fire Pits employ a more elaborate design that can be used in a variety of applications, but it comes with a higher price tag that starts at $399 – a good chunk of change. Fox River Fire Rings start at just $112 for the solid multi-piece fire ring with a 30-inch diameter and even our custom design templates at the largest size are priced at $268.
Size
Are you looking for an outdoor fire ring that will be the centerpiece for your next backyard get together? It is important to consider the size of your fire ring when you make your purchase. The larger the fire pit, the more room you will have for family and friends. Fox River Fire Rings manufactures fire pits up to 60 inches in diameter that can seat up to 10 chairs around the fire. Breeo Smokeless Fire Pits are only available in smaller sizes that may limit the number of people who can enjoy the fire at your gathering. Check out our fire pit size guide to help you find the right fit.
Custom Designs
Are you buying a fire ring for your cabin or lake house? Fox River Fire Rings can be customized to match your own interests with intricate outdoor-themed designs and a variety of sizes and shapes to choose from. When you purchase a Fox River Fire Ring, you will also have the option to add personalized text to your fire ring for just $55. Text can include your last name or a short message with two lines of text up to 12 characters each. Breeo Smokeless Fire Pits are available in a few colors – but cannot be personalized to the same extent.
READ MORE: How Far From My House Should My Backyard Fire Pit Be?
We know that many of you may love Breeo Smokeless Fire Pits and similar models – but don't forget that there are other brands that can provide you with a more memorable night around the fire with family and friends. We hope that this Fox River Fire Rings vs Breeo Smokeless Fire Pits comparison helps highlight a few reasons why our custom fire rings should be on your short list. Contact Fox River Fire Rings today for more information!